DEEP C is one of the 3 zones selected in Việt Nam to participate in the EIP initiative led by UNIDO (United National Industrial Development Organization), MPI (Ministry of Planning and Investment) and funded by SECO (Switzerland Economic Development Cooperation).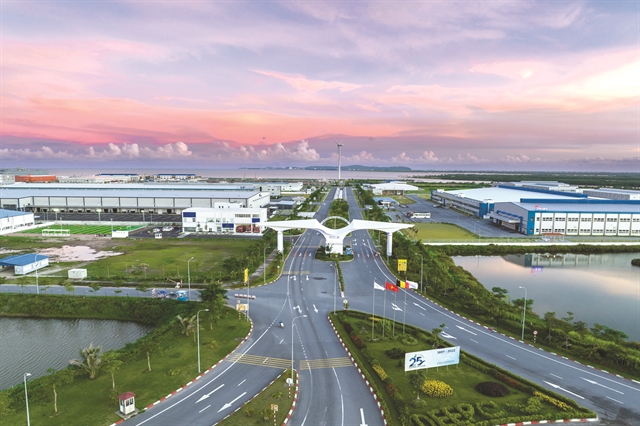 A view of DEEP C Hải Phòng II Industrial Zone in the southern port city of Hải Phòng. Photo courtesy of the firm
HẢI PHÒNG — DEEP C Industrial Zones has pursued greener standards to be different, providing a sustainable and reliable investment location for customers. The investor considers sustainable development an irreplaceable strategy.
For DEEP C, 2022 means a year of breakthroughs, transformation, and success as it marks the company's 25th year of establishment and development in Việt Nam.
DEEP C Industrial Zones is a Belgian developer and operator of an industrial zone (IZ) and port in Hải Phòng City and Quảng Ninh Province, one of the most dynamic regions in northern Việt Nam.
In 1997, DEEP C launched the first development project, the Đình Vũ Industrial Zone (aka DEEP C Hải Phòng I Industrial Zone), marking the co-operation between the Belgian Rent-A-Port Group and Hải Phòng People's Committee.
Over 25 years, DEEP C has owned and managed five industrial zones in Việt Nam representing a land bank of nearly 3,400ha. The venture is gradually implementing Environmental, Social and Governance (ESG) reporting standards as core criteria for its sustainable development strategy. DEEP C already incorporates the UN Sustainable Development Goals in its day-to-day operations. As a result, it is committed to excluding all investors using coal based processes, pledged to ensure that minimally 50 per cent of its energy demand will be provided from renewable sources by 2030 and has been selected by UNIDO (United Nations Industrial Development Organisation) and MPI as pioneer for its new EIP industrial zone standard (Eco- Industrial Park).
Environmental and sustainable perspective
DEEP C is currently developing several initiatives on its energy and water use, waste schemes and natural preservation projects.
Pledging to achieve 50 per cent of its total energy consumption via renewable energy by 2030, DEEP C is pioneering a unique hybrid micro grid concept in Việt Nam encompassing solar, wind and conventional supply. At the same time, it is executing a feasibility study to include battery storage and/or LNG and Biomass power plants to offset the solar cycles to become completely independent from the coal-fired Vietnam Electricity (EVN) power grid. DEEP C also offers its customers green energy certificates and carbon credits.
DEEP C already set up a 2.3 MWp windmill trial project and targets to double its solar rooftop capacity to achieve 6MWp in 2022. 1MWp solar project in DEEP C saves more than 42,000 mature trees and reduces over 1,000 tonnes of CO2 emissions yearly and DEEP C intends to achieve 120MWp solar capacity by 2030.
Other initiatives include replacing diesel-powered waste collecting trucks with electrical trucks, the gradual change of all fluorescent lights with LED and the feasibility study to establish a solar project and biogas recycling setup on top of a neighbouring landfill.
DEEP C is looking for partners with alternative energy solutions to reach 100 per cent of its energy consumption via renewable sources in combination with hydrogen storage.
Initiatives linked to waste
Emphasising its development strategy, Bruno Jaspaert, CEO of DEEP C Industrial Zones, said DEEP C strived to implement projects using renewable energy, recycling, and protecting the environment, striving to grow into an eco IP. Thus, DEEP C's sustainable development strategy focuses on renewable energy, water reuse and recycling, waste reduction, green building, and mangrove conservation.
DEEP C together with Dow Chemicals asphalted the first 200m out of plastic waste in Việt Nam and worked with the government to set a standard for the country.
DEEP C is also setting up separate waste collection schemes at the customer sites and operates its own recycling centre, setting up a way to valorise organic waste in DEEP C together with Vietnamese authorities.
Further, DEEP C is establishing a feasibility study with two European companies to valorise industrial waste of DEEP C tenants into sustainable energy for the production of cement.
DEEP C is working with the relevant authorities of Quảng Ninh on the complex preservation of 22ha of native mangroves. The area will act both as a retention and buffer area but offer also stilted walkways for visitors.
It established an in-house nursery and a wetland green zone in Hải Phòng to preserve local fauna and flora.
DEEP C is one of the three zones selected in Việt Nam to participate in the EIP initiative led by UNIDO (United National Industrial Development Organization), MPI (Ministry of Planning and Investment) and funded by SECO (Switzerland Economic Development Cooperation). By implementing Circular Economy, Industrial Symbiosis, Resource Efficiency & Cleaner Production (RECP) and sustainable development, the EIP initiative aims at improving environmental, economic and social performance of industries in Việt Nam.
The investor intends to preserve Cát Hải Town (100ha with well over 2,000 households and 7,000 people and several local businesses) by proposing to convert it into an "urban- industrial" symbiosis project. The industrial zone will be harmoniously developed by integrating the town in an island-like structure encircled by a wide channel and green zone. The town can as a result become attractive for installing canteens or housing projects for workers resulting in ecological and economic benefits and well-being for the community.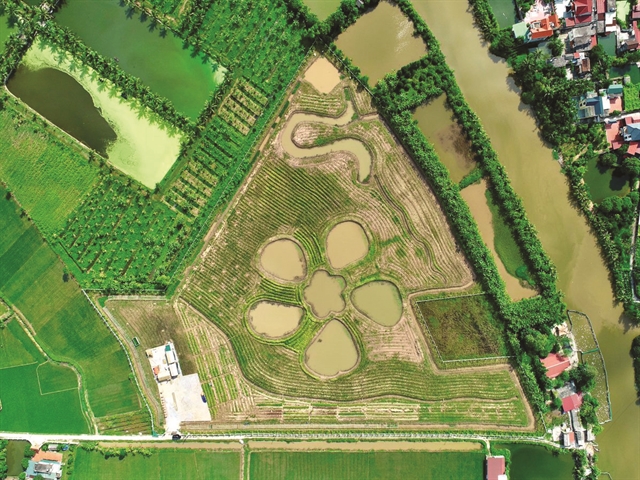 DEEP C Farm seen from above with the symbol of red phoenix flower. Photo courtesy of the firm
DEEP C Farm calls itself a social welfare no-profit project with a sustainable twist. The initiative aims to provide two baskets of organic fruits, vegetables, chicken or fish per month to DEEP C employees earning less than US$400 per month. All other employees are allowed to buy the same products at cost-plus levels. In the future, this project will be made available as a service to tenants of DEEP C who can offer this in return to their employees.
Developed on 3.5ha in Hải Phòng suburbs, the project funded by DEEP C entities encompasses a production farm, training centre and collaborates with agriculture experts, scientists, local farmers, and authorities.
DEEP C farm is meant to become the flagship of DEEP C's sustainable development strategy and aims to become organic and fair trade certified.
DEEP C was one of the early foreign investors in this field in Việt Nam, since 1997. At that time, Đình Vũ peninsula was still a deserted swamp area. However, Rent-A-Port, a Belgian corporation specialising in the development of port-attached industrial parks and renewable energy projects in many parts of the world, saw the peninsula's strategic location as a regional logistics centre in the future.
Over the past 25 years, investors have gradually turned the deserted swamp peninsula into a spearhead industrial park, creating the foundation for the current complex with a system of five industrial parks and liquids terminal, attracting 140 investors with total capital of $4 billion, creating more than 30,000 jobs.
Today, major global manufacturing names are here such as Bridgestone, Pegatron, USI, Tesa, BW Industrial, Nippon Express, Shinetsu and Polarium. With the goal of becoming a business for the future, considering sustainable development as a core value, DEEP C believes that the main value of industrial park operators is not purely for leasing land, it comes from utilities and optimal services for the needs of every investor.
Building the future in Hải Phòng
Thriving. Innovative. Sustainable. All describe the fastest-growing region of the country: Hải Phòng City and Quảng Ninh Province. This exciting destination is growing at an incredible pace, fueled by a mix of booming industrial development with a green high-tech focus and business empowerment.
Find out more about the investment opportunities by joining our seminar "Building the Future" on the 20th and 21st, October 2022 and discover how DEEP C will act as a catalyst for Hải Phòng and Quảng Ninh's transformation into the next investment locations in the North of Việt Nam.
The seminar will be followed by a field trip to DEEP C Industrial Zones and a Gala Night as part of DEEP C's 25th-anniversary celebration.
Register here: www.deepcevent.com