Hà Nội needs an urgent and optimal solution for waste treatment, environmental experts have said, suggesting the construction of modern waste treatment facilities and waste sorting at source be the key points to improve the city's waste treatment capacity.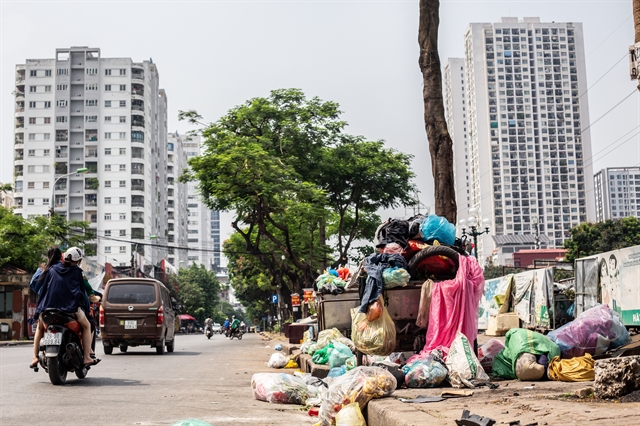 Garbage piles up on Kim Ngưu Street in Hà Nội's Hai Bà Trưng District. VNA/VNS Photo Nguyễn Phương Thảo
HÀ NỘI – Hà Nội needs an urgent and optimal solution for waste treatment, environmental experts have said, suggesting the construction of modern waste treatment facilities and waste sorting at source are key points to improve the city's waste treatment capacity.
Since 2015, the city has experienced nearly 20 instances when garbage pilled up on its streets when the two biggest dumping sites, Nam Sơn and Xuân Sơn waste treatment complexes, ran out of space to bury the capital's garbage.
Meanwhile, the expansion of these landfills has remained stagnant because of disputes over land clearance compensation.
Although the city directed departments to coordinate with local districts to hold dialogues and find temporary solutions, the protests still reoccurred, causing a waste treatment crisis in the city.
Hoàng Dương Tùng of the Vietnam Association for the Protection of Nature and Environment and a former deputy director of General of Vietnam Environment Administration told Vietnamplus that the biggest problem in waste treatment in Hà Nội is burying garbage, an old-fashioned waste treatment that leads to overcrowded and unsanitary landfills.
"If we continue the old-fashioned method, I believe there will be no way out in the treatment of garbage and the conflicts among local authorities, residents and waste treatment owners will escalate," he said.
Tùng said the authorities have not really considered the problem of garbage a problem of urban management as none of the leaders or officials were in charge of or disciplined for the shortcomings of the issue.
He emphasised that the city's authorities need to change the management and operation of landfills and the management and treatment of solid waste.
The key point is to sort waste at source as prescribed in the Law on Environmental Protection 2020. This will help reduce overloading at landfills.
Tùng suggested the city should have a specific policy on environmental fees and sanctions on violators, and at the same time, a very specific policy to create a competitive environment for businesses to participate in waste collection, treatment and recycling.
According to him, Hà Nội should not open more landfills but should pay more attention to modern waste treatment technologies.
"The city must become a role model in waste management and treatment instead," he said.
Edward McBean, an expert on environmental issues and solid waste treatment from the University of Guelph (Canada), also recommended that each family should sort their own waste at home to reduce waste disposal fees.
In addition, the application of sanctions is also an effective solution to enforce regulations on waste classification at source in the near future, he added.
Modern and safe waste treatment zones
Environmental experts also recommend that Hà Nội should speed up the progress of land clearance and construction of waste treatment areas.
In particular, the city needs to pay attention to new waste treatment technology, which burns waste to generate electricity or pressing pellets used in construction.
Burying garbage must be stopped to avoid environmental pollution, he added.
Nguyễn Đình Trọng of Vietnam T-Tech Technology Corporation said that the solution for big cities is the planning of garbage plants and waste collection points. In Hà Nội, the authorities should have three or four garbage plants around the city to reduce transportation costs and prevent unexpected incidents.
Tùng agreed, saying that along with accelerating the construction of waste treatment zones, the city needs to come up with a number of response scenarios in case there is a problem during the operation of the plants.
He stressed that the improper operation of the incinerator will cause terrible pollution as a huge amount of dioxin and chemicals will spread out into the environment.
Tùng warned that if it happens, it will be a second Formosa incident.
He said that it is necessary to be transparent about the automatic monitoring data in the process of operating waste treatment zones as well as garbage power plants, so that people can monitor it and the management agency can make prompt decisions to ensure environmental safety.
"No matter how modern waste treatment technology is, waste needs to be sorted. This not only meets the processing requirements but also helps ensure the durability and longevity of the processing system and machinery," he said. "Only when garbage is classified according to the right standards can it prevent harmful emissions from the combustion process."
Statistics from the city's Department of Construction showed that every day the city has about 5,000 tonnes of domestic waste.
The Nam Sơn Waste Treatment Complex receives an average of 4,000 tonnes of waste per day while the Xuân Sơn Complex receives the rest in the form of combined incineration and burial.
According to Hà Nội's planning on solid waste treatment by 2030 with a vision to 2050, there will be 17 waste treatment zones with a capacity of up to 1,200 tonnes per day. – VNS