Top priority would also be given to cutting costs for businesses and synchronously and effectively deploying policies to support firms in capital, technology transfer, training and human resource development.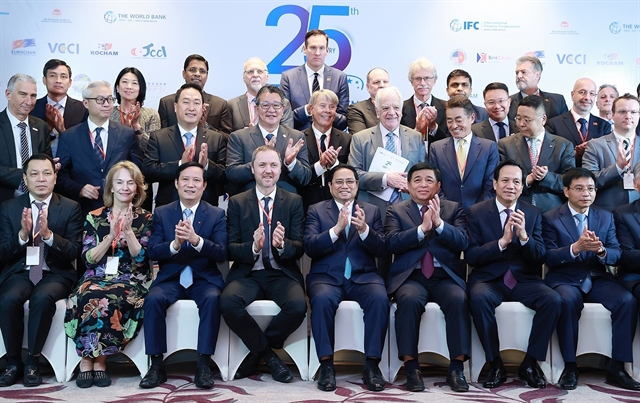 Prime Minister Phạm Minh Chính (front row, fourth from right) with delegates from international organisations and business associations at the event. — VNA/VNS Photo Dương Giang
HÀ NỘI — The Vietnamese Government is committed to creating favourable conditions for businesses to develop, Prime Minister Phạm Minh Chính said at the Annual Việt Nam Business Forum held in Hà Nội on Sunday.
It would continue to perfect mechanisms and policies to create a favourable and equal business environment, improve national competitiveness, remove difficulties for enterprises and increase transparency and equality in access to resources.
Top priority would also be given to cutting costs for businesses and synchronously and effectively deploying policies to support firms in capital, technology transfer, training and human resource development.
Việt Nam would also develop all kinds of markets, including goods and services, finance-currency, securities, real estate, science- technology, labour and public procurement, creating conditions for businesses to have equal access, he said.
The Vietnamese Government has always focused on handling and solving difficulties of businesses in several areas, such as global minimum corporate tax rate, visa regulations, work permits and others related to land and housing, investment and bidding.
The PM said he believed that the business community would work with the State to overcome difficulties and continue to cooperate effectively and sustainably amid the global situation, which was changing very quickly and unpredictably, with increasing risk factors, which greatly impacted the global scale.
Green growth
In his speech at the event, the PM also stressed that green growth was a global trend. Green growth was a significant and important policy of the Party and State Việt Nam to ensure fast, effective and sustainable economic development and make an essential contribution to the implementation of the 10-year socio-economic development strategy in 2021-30.
Facing the trend of sustainable development on all three economic, social and environmental pillars, the national green growth strategy has been published and its initial results have contributed to the international community's efforts in responding to climate change.
But the PM said that green growth should have a suitable roadmap, considering the different conditions and capacities of each region, locality and enterprise.
The response and participation of all actors in society, especially businesses and people, should be encouraged. At the same time, projects in the form of public-private partnership (PPP) in green growth should be promoted, he added.
Minister of Planning and Investment Nguyễn Chí Dũng said that 2022 was when the world economy faced many challenges, fluctuations and unpredictable complications. However, Việt Nam still recorded important and comprehensive socioeconomic achievements in many fields.
In 2022, the scale of Việt Nam's economy exceeded US$400 billion for the first time with a growth rate of 8.02 per cent and GDP per capita hit over $4,000. Total social investment capital last year was estimated at VNĐ3.22 quadrillion, up 11.5 per cent year-on-year. Disbursed foreign direct investment reached nearly $22.4 billion, the highest level in the past five years.
Việt Nam's total import-export turnover hit a record of $732 billion in 2022, making the country among 20 countries with the most significant trade scale in the world. Last year, the country maintained a trade surplus of $11.2 billion for the 7th consecutive year.
At the same time, Việt Nam's business and investment environment was increasingly improving. Last year, the number of newly-established firms and enterprises resuming operations in the country reached 208,300, a yearly increase of 30 per cent.
Dũng said economic recovery, green growth and sustainable development were considered top priorities and goals that all countries aimed for. For Việt Nam, green growth was not only an inevitable choice but also an opportunity to become a pioneer in the region, catching up with the development trend of the world.
And the business community had been identified as a critical factor, playing an important role in that process, Dũng said.
In recent years, the minister said that the business community's awareness of its role in the national green growth strategy had significantly improved and that many practical actions had been taken to contribute to the implementation of green growth.
Many businesses had considered green business as a strategy and competitive advantage, focusing on using clean energy, and environmentally friendly materials, supporting social responsibility activities. They had also concentrated on investing in modern, high-tech, environmentally friendly production lines, using fewer resources and energy, and minimising waste.
According to Dũng, the forum would be a good opportunity for the business community to advise the Government on solutions to realise its goals in green and sustainable economic development and deliver their commitments and roadmaps to contribute.
Chairman of the Việt Nam Chamber of Commerce and Industry (VCCI), Phạm Tấn Công said to overcome challenges and realise development goals, the Government and the business community needed to accompany and share the vision and strategy of green and sustainable development.
Công said Prime Minister Phạm Minh Chính's statement at COP26 and the Government's determination to promote the development of a green and circular economy demonstrated Việt Nam's commitment and contribution to solving global challenges on climate change and environmental issues.
The chairman noted that the Vietnamese business community was committed to responding to and accompanying the Government to realise these important development goals and commitments.
Also at the forum, representatives from the foreign business community and international organisations proposed many recommendations to the Vietnamese Government and ministries to further improve the business investment environment, remove obstacles, and create better conditions for businesses to ensure development towards green growth.
Among them were accelerating the energy transition to clean and renewable energy; raising the criteria for environmental impact assessment; perfecting regulations and ensuring their transparent implementation.
They said that simplifying entry procedures to support international business exchanges; bettering tax and customs policies; reforming capital markets to promote investment should be included. — VNS